---
"Window to the World" Stained Glass Project
Coeur d' Alene has a new attraction…the eight beautiful stained glass windows soon to be installed in the cupola of the Coeur d'Alene Carousel. The windows depict eight original works by creative stained glass artist, Atsuko Kroetch. It is our hope to publish Atsuko's art, accompanied by the eight stories of eight heroic horses. The horses in the stories were named by fifth grade students from 11 elementary schools in the fall of 2018.  It is our wish to credit both the student and the sponsor on the pages of the book connected with the horse a student named, and the horse a sponsor supported. Sales of the book, "Window to the World" would be intended to benefit the ongoing maintenance expenses of the CDA Carousel. We would like to honor both students and sponsors in the pages of Window to the World.  If you are interested in donating to the "Friends of the Carousel" "Spotlight" window, please let us know! Special thanks to our sponsors; their generosity enabled the installation of the windows in the cupola.
Below are some previews of the eight stories.
Flower of Grace
Adopted

Liberty
Adopted

Strider
Adopted

Rally Adopted

Maximus Adopted

Spotlight - Friends Window Adopted

Powerful Giver Adopted

Firework
Adopted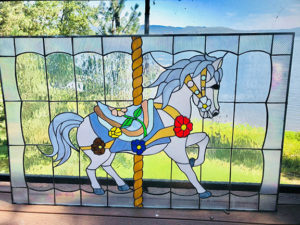 ---
"FLOWER OF GRACE" -  Debbie Wieser; For the Teachers
---
SETTING: TINY COUNTRY IN EUROPE IN LATE 1800's
This is the story of an elegant and wonderfully accepting horse. This horse, by example, fostered a remarkable transformation in the young Princess Loretta. Her resentments and disdain for her world were extinguished, when she elected to choose a new loving outlook, which the princess claimed was fostered by her wise and caring teacher, her horse!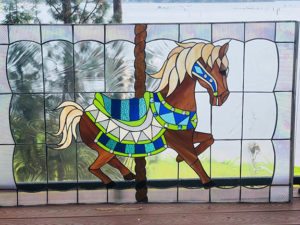 ---
"POWERFUL GIVER" - Bob & Jean Retzler
---
SETTING: OUTER MONGOLIA  1600 AD
This is the story of a horse of overwhelming generosity. She won the hearts, minds and long lasting reverence of an entire global region. Her people were and are totally dependent upon their horses for their livelihood and safety in a world of harsh climate. While the horse brought them only necessities, to her people, she was a treasure far greater than diamonds or gold. She was their gem.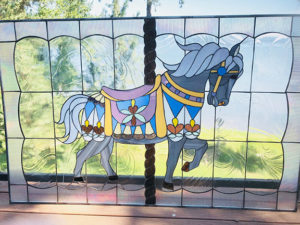 ---
"STRIDER" FEARLESS COMPANION - Richard & Constance Schroeder

---
SETTING:  BRITAIN 1250 AD
This is the story of a very compatible mutually supportive team……a horse and his lovable eccentric knight. Through their many years together on countless challenging missions, they both evolved to embrace and demonstrate a sage creed. What was their noble and regal creed? "Love conquers fear." As they both moved forward to take life "in stride", they learned to become "fearless"…in other words, they got along without fear.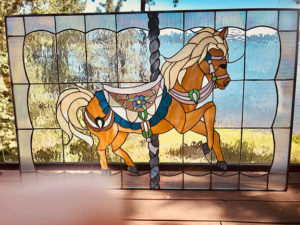 ---
"RALLY" - In Memory of Jeanette Mann Branson

---
SETTING: NORTHERN IDAHO & ARABIA  1900 AD
This is the story of a horse representative of the resilient and passionate spirit of Northern Idaho and the West. The horse stood strong in the face of adversity and proved himself a great winner in an impossible race. Yet he proved himself an even greater winner, when he utilized his celebrity wealth to generously champion those less fortunate than he.
(Based on "tall tale" of the Lakota tribes, passed to them by long distance horse racer, Frank Hopkins, who claimed to be of 50% Lakota heritage. No facts can be substantiated, but it has become a Paul Bunyon type of folklore, which inspires all of us to be better and stronger in all we do.)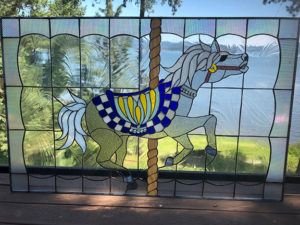 ---
"MAXIMUS" - Kathie & Peter Jones

---
SETTING: ANCIENT INDIA 300 B.C.
This is the story of an astonishing horse of a prince, gifted to the kingdom from another realm. This horse knew how to take time for judicious decision making.  When granted three wishes by a magical entity, his first wish was a wish for the gift of time. He wisely maximized an opportunity when given to him. He did not squander his chance. His final two wishes were intended to bring greater cooperation and benevolence to his world. He demonstrated great foresight and belief in a better future.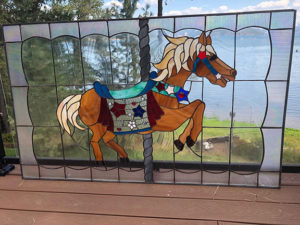 ---
"SPOTLIGHT"
KNOWN FOR "TAKIN' ACTION" - Friends of The Carousel
---
SETTING: CATTLE COUNTRY OF VENEZUELA 1970
This is the story of a horse of "know-how". She did more than show off her athletic talents for her own aggrandizement. This horse gained center stage in the hearts of others, by using her skills to perform valuable service.  She did not let the darkness of the world, nor the task, dissuade her. She "spotted the light" in an otherwise dark moment. She followed the light, and in the end, brought light into others' lives.
---
"LIBERTY" - Kroetch Family
---
SETTING: FARM NEAR BOSTON LATE 1700'S
This is the story about the wonderful timing of the birth of a very fortunate filly.  The young filly had had the extremely good luck to be born after the birth of her nation.  She would not know the tight clutch of tyranny.  She would not be required to struggle to free herself and to free others from the unreasonable reign of a monarch.  She would know only freedom.  She would grow to take pride in her forefathers and to take pride in her own mother.  Her own mother had been the same mare ridden by patriot, Paul Revere on his famous ride.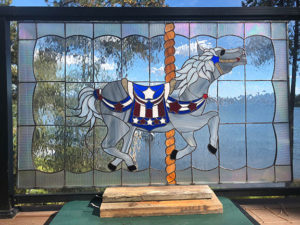 ---
"FIREWORK" - Lavigne Family
---
SETTING: HAWAIIAN ISLANDS MAUI 1956-1959
In a land of firing erupting volcanoes, this horse used her nurturing nature to bring folks together in sweet but explosive ways. She fostered a competition, and later fostered a romance between two unlikely sweethearts. She promoted their greater sense of family by pouring out love to their infant son. She presented the best way to mix up elements in the melting pot of our United States. All of this happened just as the mainland was welcoming the celebration of Hawaii, the Aloha State to become the 50th star in the American flag.
There is a future book planned that will include the full length pony stories and the names of the sponsors and winning students who named the ponies through a contest.
Stories written by Deborah Wieser
Stained glass created by Atsuko Kroetch
Book Illustrations by Christina Hull
The Coeur d'Alene Carousel Foundation is a 501(c)3 non-profit, ensuring the legacy and continued operation of the original Playland Pier carousel.  All operation costs, maintenance & repairs are covered by ridership, grants, tile sales, adoptions, donations and the generosity of our supporters.